Foundations in Voice Therapy
LIVE EVENT – 23rd – 25th September 2024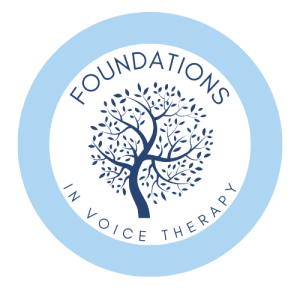 We are returning to run this popular 3 day voice skills training course in 2024!
An in person course: voice skills, knowledge and beyond. A fresh approach to working with voice for speech and language therapists
Tor Spence and Lydia Hart are delighted to announce the return of their in-person course for speech therapists, Foundations in Voice Therapy. This is a 3 day course exploring core voice assessment and treatment techniques as well as holistic and biopsychosocial aspects of working with patients with dysphonia. The course also includes 4 hours of pre-course online lectures, providing a thorough look at laryngeal anatomy, physiology and pathologies and indirect voice therapy education and strategies.
Venue: Thames Lido, Napier Road, Reading, Berkshire, RG1 8FR, UK
£599
VoiceFit to Practise
ONLINE TRAINING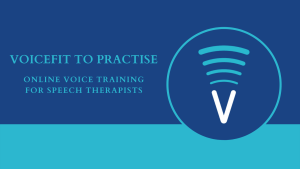 IF YOU ARE LOOKING FOR A MORE FLEXIBLE AND CONVENIENT APPROACH TO LEARNING AND DEVELOPING YOUR VOICE SKILLS THEN CHECK OUT VOICEFIT TO PRACTISE.
Online voice knowledge and skills training for the developing voice therapist
VoiceFit to Practise is an online course designed for speech therapists who want to develop their voice skills. This could be alongside a voice clinical caseload or not. The course is divided into seven modules and is linked to a specially designed competency framework for the 'Developing Voice Therapist'. Delegates should have a clinical supervisor in the workplace if they have a voice caseload. However if they don't VoiceFit can provide 1:1 supervision.
The 7 modules cover: 
Voice physiology
Laryngeal pathologies and diagnosis
Assessment of the voice
Voice case management planning
Treatment of the voice patient
When to discharge, barriers to change
The evidence base, CPD planning, using social media in healthcare
What does the course include?
Each module includes lectures and presentations, written teaching materials, quizzes, downloadable resources, case studies and video and audio files.
The lectures are accessible for 6 months from the date of purchase.
The downloadable resources including your own competency framework are available to keep.
The cost of the course includes 2 45 minute virtual supervision sessions within that 6 months.
Permanent access to the VoiceFit to Practise Facebook forum for course delegates.
£390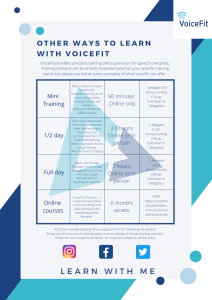 To discuss what you're looking for CONTACT VOICEFIT